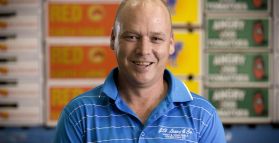 He's as cool as a cucumber and that's got nothing to do with the temperature in the warehouse...


JH Leavy & Co. recently celebrated Mark Meiforth's 25th anniversary with the business, a significant career and personal milestone which he acknowledges modestly and refers to as just another day in the job.
"I'm happy here, I can still do everything and as long as I can lift, I'll keep going.
"It's pretty much second nature now what I do," says Mark.
It is not often a business has the privilege of having a team member for 25 years. The achievement speaks volumes about Mark's character and work ethic. Ben Bartlett GM of JH Leavy & Co. says that Mark is a productive, self-motivated and committed member of the team.
"Mark is our warehouse night manager and occupies a critical role within the business which involves product receipt, dispatch, quality assessments, appropriate storage, cross docking, customer order consolidation and so the list goes on!
"It is a lot of responsibility which Mark seems to take in his stride, even when the pressure is on," says Ben.
Mark does seem genuinely happy in his work, and has a calmness about him that bears no jading from the long tenure and challenge of working nights.
"If I have a bad day I just shake it off when I get home and then come back the next day."
Mark started out in the markets doing an apprenticeship as an engine reconditioner. He was also doing casual work which lead to a fulltime job for a service provider who did sorting at night for JH Leavy & Co..
"After a few years of doing that, Peter [Tighe] approached me and that was the start of it."
Initially, Mark was working on the sales floor for JH Leavy & Co. but 10 years ago saw an opportunity to create a role of his own.
"We were developing the current facilities which are away from the main market and I saw the need for the warehouse to be manned to cater for truck deliveries and unloading so I put my hand up and have been in this area ever since."
A lot has changed in 25 years at JH Leavy & Co..
"I remember the first cold room we had over the road [in the market] was probably the size of two of our current fast coolers [approx. 250sqm] nothing like the scale of what we have today.
Mark says that the business has grown alongside its growers.
"Back then, Brak Pak would bring in a couple of pallets a day, now, looking after their business is most of my job.
Mark enjoys the autonomy of his role and also the social interaction with the team and its family feel. He mentions his colleagues Gary Moore and Chris Mizzen who have been with JH Leavy & Co. for 27 and 16 years respectively.
The acquisition of JH Leavy & Co. by Darling Group in 2016 hasn't upset this balance, it has been a smooth transition for Mark.
"It's been business as usual but I look forward to seeing where Darling Group takes us."
Ben acknowledges the expertise Mark and the other long tenure staff have built up over time and the value this represents to the business.
"I am proud that we have such a wealth of knowledge in our team and I look forward to Mark continuing his significant contribution to JH Leavy & Co.'s growth."