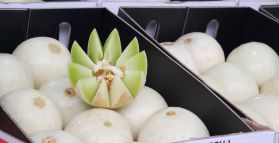 Northern Territory mango season has come to an end for another year,which means we are on the way with Queensland mangoes. Brak Pak in Bowen has started picking R2E2 mangoes which are at their usual high quality standard.
We have kicked off this season with good orders for overseas markets,which should continue throughout the season.
We are about to start our Rockmelon and Honey Dew melon season from Red Earth in South Australia.This season will run right through to April next year.
Red Earth has grown a new variety of rockmelon this season which is super sweet and has a great appearance. This should create some healthy competition with our competitors around the market and keep our customers happy with increased sales and profit.
Gary Moore
J. H. Leavy & Co.
0419 777 319